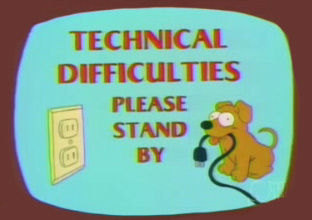 Technical Difficulties…
Sorry if you are having technical difficulties. For the last few days Windows to Russia has been experiencing a huge load increase due to several articles going crazy. We have one article that is on no less than 12 forums and other sites. This has caused a big server issue for us. The server load has jumped and it seems that we have reached the limit of our cheap but great hosting service…
Normal load is around 100,000 hits and 500 to 700 megs of bandwidth a day. But we have reached, (so far) yesterday a record 1,834,000 hits and 5 Gigabytes of bandwidth (in one day). I am sure that Russia Today is happy with the incredible number of downloads of their video.  This has been building for a week and we will see today if the weekend will take the edge off of it…
We do not blame the hosting service because we are the one's getting what we pay for. So Sveta and I have to keep an eye out on the situation and if Windows to Russia continues to stay at this unbelievable level of activity, we are going to have to invest in a upgraded level of hosting…
Moscow Building 5000 Bomb Shelters by 2012…
Russia: Volga Automobile, Part 1 History!
Russia Developing A Russian National Operating System (RNOS)…
The three (3) links above are the main issue and we have to say that we like problems like this.

  These three links have gone viral and are dragging the others with them now. So exponentially the site is growing…
We know some of you have had problems (e-mails) and we want to address that situation. The site has had at least a dozen (12) downtime's that lasted for 3 to 5 minutes! This is not good and we suspect that all will be normal after the peak load eases…
Hundreds of people have been with us from the beginning and have seen Windows to Russia go through many growing pains. Please just be patient and realize that we will get this settled like all the other pains…
Thanks a Whole Bunch!
From: Kyle and Sveta
Windows to Russia!