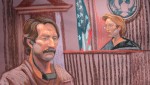 RIA Novosti was able to interview Viktor Bout. The suspected Russian arms dealer who was extradited from Thailand to the United States in mid-November. As Bout is kept in a New York detention center so only lawyers and officials from the Russian Consulate can visit him. RIA Novosti correspondent Dmitry Gornostayev was given an oportunity to get a list of questions to Bout and received answers via Russian Vice Consul Alexander Otchainov…
The text of the interview is below: (Click "More" below the article to see the whole interview.)
Q: Viktor, when did you realize that you would be extradited to the United States from Thailand and the extradition is irreversible?
A: This occurred on November 16, 17:30 local time. I was taken out of my cell on the pretext of being transferred to a new cell. I saw many police cars in the jail's yard, though cars never drove in there earlier. I saw many DEA [U.S. Drug Enforcement Administration] officers in jackets with badges. That's when I got it that my extradition will happen now.
The Thais brought me to the airport and changed my clothes in a separate room. Then I was handed over to U.S. agents.
Q: In September you had a similar situation when you were nearly transferred to the United States. What was the difference between these two situations?
A: In September the jail chief refused to extradite me without a warrant. A scandal triggered by the fact that an aide to the Thai prime minister had visited me unfolded in the Thai parliament. The scandal drew public attention to my case and my lawyers managed to prove that extradition was illegal at the time, which the Prosecutor's Office also announced then.
This time, everything was carried out without any documents at all. There were no legal differences from the September situation: the court was still considering my protest and appeal filed by my defense. In other words, the legal procedure was still underway and, in line with the law, no one had the right to take me out of the country.
Moreover, my lawyer told me via his U.S. colleagues that from the viewpoint of the Thai court, I am still in Thailand: the [Thai] Court of Appeal recently set for hearing another appeal filed by my defense.
I am sure that my extradition violated both Thai and international legal norms.
Q: You've told Russian Consulate employees that during the flight from Bangkok to New York, Americans were trying to force you to confess things you had not done. What did they offer and what did you respond?
A: They offered a milder sentence, a shorter term and an opportunity to bring my family to the United States in case I tell them everything I know about my ties in Russia and other countries. But I responded that I have nothing to tell them: I know nothing about the things they took interest in.
Q: Does the pressure continue? How does the jail administration treat you?
A: There have been no interrogations; the administration behaves in an impartial manner. Nothing that could be interpreted as pressure.
Q: What is the difference between the confinement conditions in the Thai and U.S. jails?
A: It's like comparing a zoo and a mental hospital. In Thailand inmates are kept in cages in relatively fresh air and treated like animals. In the United States they are treated like highly dangerous lunatics. Total control of each movement. No sunlight, air or sky. Nothing of the kind.
Q: What is the way you study the charges brought against you? Do you read the prosecution materials? Have you found something interesting, perhaps something very serious, or, vice versa, something ridiculous? What aspects have drawn your attention?
A: So far, I have no comments due to ongoing preparations for the trial.
Q: Are you afraid of the trial in the United States or do you hope it would set everything straight?
A: I believe the trial will definitely be biased and nonobjective. By saying this, I am proceeding from the fact that the U.S. government deliberately distorted facts about my life and work in the text of its charges. Information about me contained there is based on unverified data, rumors, misunderstandings and blatant lies.
For 10 years the government bodies of the United States have directly and through media been waging a war against me and my family. Streams of lies have been poured on us. In these conditions, no one here – including the judges – can be unbiased.
Only a thorough analysis of what's happening can help an American brainwashed in this manner learn the truth about the situation. But this requires effort. I am not sure anyone here would want to make this effort, though actually everything is rather simple. For example: what was posted on the Wikileaks website unambiguously proves the political nature of my case.
I think the American court will not try to sort out the actual objective side of the matter, as the practice of considering cases when foreigners are accused of a conspiracy against the United States shows that such charges automatically mean guilt.
Q: Have you heard of publications in the American press suggesting that a certain "Bout-for-Khodorkovsky" swap deal is being considered? What do you think of such rumors?
A: I think these rumors are ungrounded.
Q: Have you picked a private lawyer? If yes, who is it?
A: In order to hire an attorney, a person first of all needs money, which I currently don't have. The issue of private lawyer will be decided depending on whether I can find the funds to pay for his or her services.
Q: What do you do during the day? What is your mood?
A: I am kept in a special block of the detention center, in solitary confinement. All my contacts with the outside world are restricted to visits by Russian Consulate General employees and attorneys. I do physical exercise.
That which does not kill us makes us stronger. What I believe positive in this situation is support from my family and friends that I'm told of by consulate employees who visit me. And I am in the right mood to fight for the truth.
Q: What do you miss most now?
A: I'm missing books, communication with my relatives, hot tea. Only warm water is available in jail, so there's no way to make tea. I am a vegetarian so I need a lot of fruit and vegetables. Here I can only have one or two apples a day. I can buy some food in the jail shop, but not what I actually need.
News from Russia helps a lot. It's good that there's radio here.
I would like to wish a Happy New Year to RIA Novosti staff, especially to Yevgeny Belenky (correspondent in Thailand); I send regards to Alexander Gurnov, the Voice of Russia radio station, especially Pyotr Zhuravlyov. It's good to hear a familiar voice.
NEW YORK, January 3 (RIA Novosti)
Windows to Russia!
Tags: Correspondent, legal differences, public attention, RIA Novosti, russian arms, russian consulate
More Related Posts to Read…